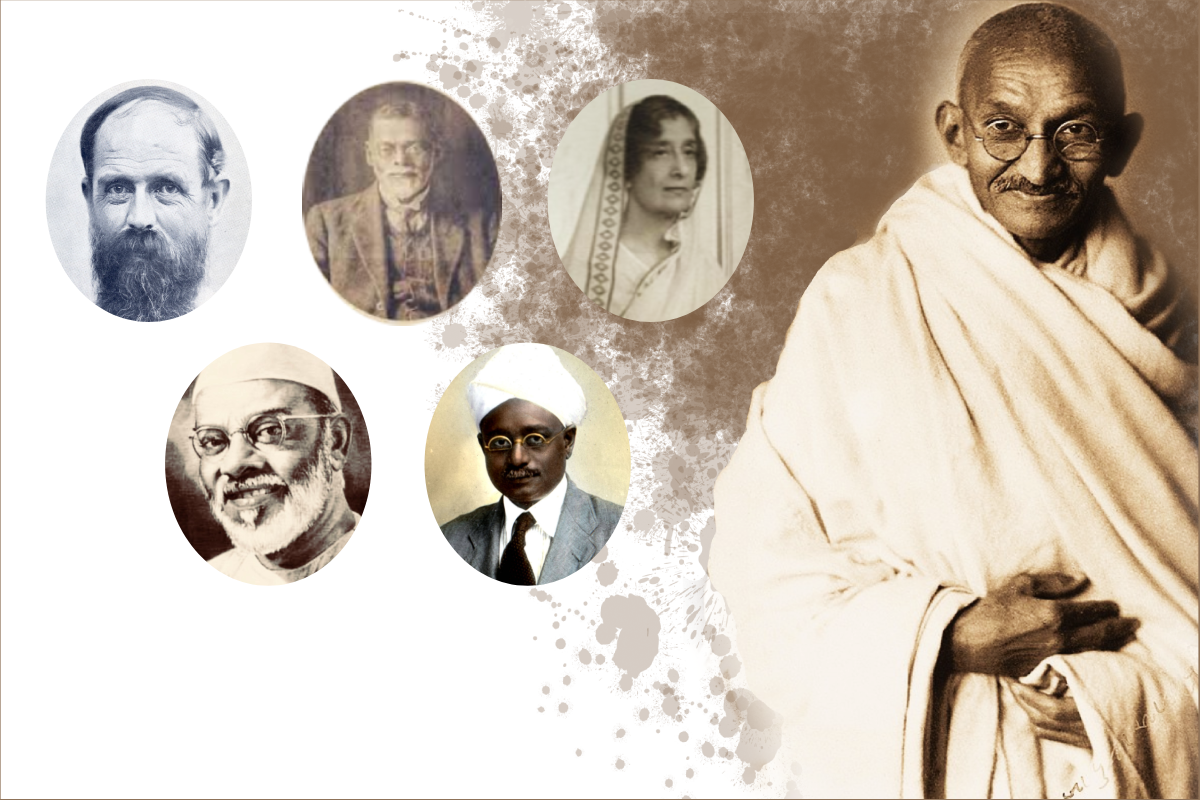 Mahatma Gandhi's Christian Friends
It is not entirely uncommon to hear: "Christians were angrez (foreigners), they were not part of the freedom struggle". But, unfortunately, even a plain reading of history would reveal the participation of Indian-Christians in the struggle for Swaraj ( Self Rule).
In many ways, the Mahatma's story is inextricably woven with the story of India's independence. As Mahatma Gandhi led the non-violent campaign for India's Independence, many Indian-Christians were attracted to Gandhi's moral leadership and teachings. A few became his aides and close friends. They were deeply impressed by the Gandhian thought and wholly embraced the National cause. A closer look at the Mahatma's Christian friends reveals the supportive role played by Indian Christians in the Freedom Movement.
C. F. Andrews (1871 – 1940)
The Anglican Priest and Educator, C. F. Andrews met Gandhi as a young lawyer in South Africa in 1905, and the two remained close friends. The Mahatma affectionately called him "Christ's faithful Apostle" (based on his initials C.F.A). Back then, Andrews was teaching Philosophy at St. Stephen's College, Delhi. Andrews was deeply impressed with Gandhi's espousal of Non-violence and was extremely supportive of Indian political aspirations. Interestingly, it was C.F. Andrews who persuaded Gandhi to return to India in 1915. Andrews served as an aide to the Mahatma in many negotiations, including the Second Round Table Conference, and helped negotiate the finer details. However, Andrews receded into the background when the Mahatma felt it would be better for sympathetic Britons to leave the freedom struggle to Indians.
Sushil Kumar Rudra (1861 – 1925)
Rudra of St. Stephen's College was another close friend and associate of Mahatma Gandhi. Rudra became a close associate of Gandhi and hosted the Mahatma in his official residence on several occasions despite the threat of retribution. Rudra, the first Indian Principal at St. Stephens College, saw this hospitality as "a little service to the National cause'. Not surprisingly, Gandhi referred to Rudra as a 'silent servant' in his obituary on Young India, a weekly journal.
Kanagarayan Tiruselvam Paul (1876 -1931)
The first Indian General Secretary of the YMCA of India, K. T. Paul, was an ardent follower of Mahatma Gandhi. As a devout Christian, K. T. Paul explored the relationship between Christianity and National identity. In his speech at the Second Round Table Conference, Mahatma Gandhi remarked:
"As far as I know, though he never officially belonged to the Congress, he was a nationalist to the full."
J. C. Kumarappa (1892 – 1960)
Joseph Cornelius Kumarappa (1892 – 1960), a pioneer of rural economic development, was a close associate of Mahatma Gandhi. J. C. Kumarappa was deeply impressed by Gandhi and offered his services to the National Cause. Mahatma Gandhi told the young Kumarappa:
"You are almost the first economist I have come across who thinks along the same lines as I do". 
Kumarappa adopted an austere lifestyle wearing Khadi and embraced the Gandhian Philosophy. In due course, Kumarappa became the greatest exponent of applying Gandhian values to economics and offered several original insights into the Indian economy. He is generally known as the "pioneer of the Gandhian model of economic development."
Rajkumari Amrit Kaur (1887 – 1964)
Rajkumari Amrit Kaur (1887 – 1964) was born a princess in the Royal family of Kapurthala. Upon her return from Oxford after her studies, Amrit Kaur met Gandhi in 1919 and was fascinated by his teachings. She formally joined the Indian National Congress following the Jallianwalia Bagh Massacre. When Gandhi sought to include more women in the Nationalist Movement, he invited Amrit Kaur.
He famously wrote to her:
"I am now in search of a woman who would realise her mission. Are you that woman? Will you be one?" 
Kaur served as Mahatma Gandhi's secretary for 16 long years and lived in the Gandhi ashram as an ordinary political worker. During their jail terms, the two wrote to each other and later developed the most enduring epistolary relationship after the Quit India Movement. After Independence, Amrit Kaur became the first Health Minister in Nehru's Cabinet.
Since Independence, Indian-Christians are suspect of disloyalty despite significant evidence to the contrary. The striking thing about the offensive language used is how little things have changed. Although we are unable to understand the prevalent attitudes, these voices are more than just harmless noise. Hopefully, the inspiring stories of our forebears can help reverse these attitudes and, with time, bring about a change in perspective.