Myanmar's military have carried out a series of airstrikes on two villages in Christian-majority Chin State, killing two civilians and injuring several others.
During the bombing of Tsun Taung and Chat in Mindat township on 2 July, the military, known as the Tatmadaw, deliberately targeted a church and a school, according to local sources.
The bodies of the two victims have yet to be formally identified.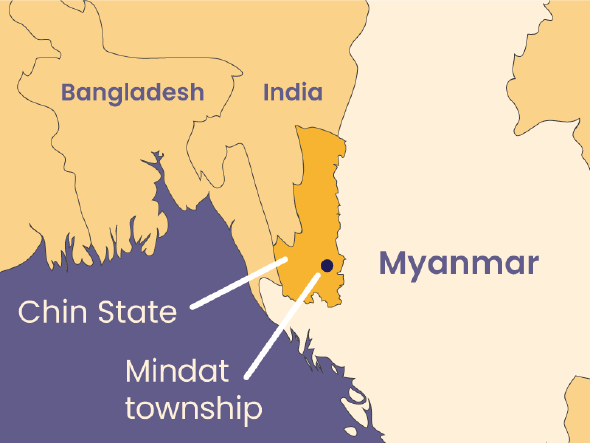 Two fighter jets dropped five bombs during the raid, which began at 11am. Eyewitness Yaw Man commented, "Churches and schools are places that should never be bombed."
Displaced people from nearby villages had sought refuge in the church and on the school premises.
The Interim Chin National Consultative Council condemned the bombing, denouncing the "airstrikes and targeting of ethnic Chin which constitute war crimes".
During a series of raids in August 2021 Tatmadaw soldiers attacked two churches in Chat, including the one that has now been bombed. They destroyed Bibles and damaged an energy generator, amongst other equipment.
The Chin population of Myanmar is thought to be at least 90% Christian. The Tatmadaw has for many years persecuted the Christian-majority Chin, Kachin, and Karen ethnic groups as well as the Muslim-majority Rohingya.
The ongoing violence in Chin State has displaced thousands of people, with an estimated 1,800 fleeing across the Indian border to seek refuge in the state of Mizoram.
---
Related Countries Myanmar (Burma)
---