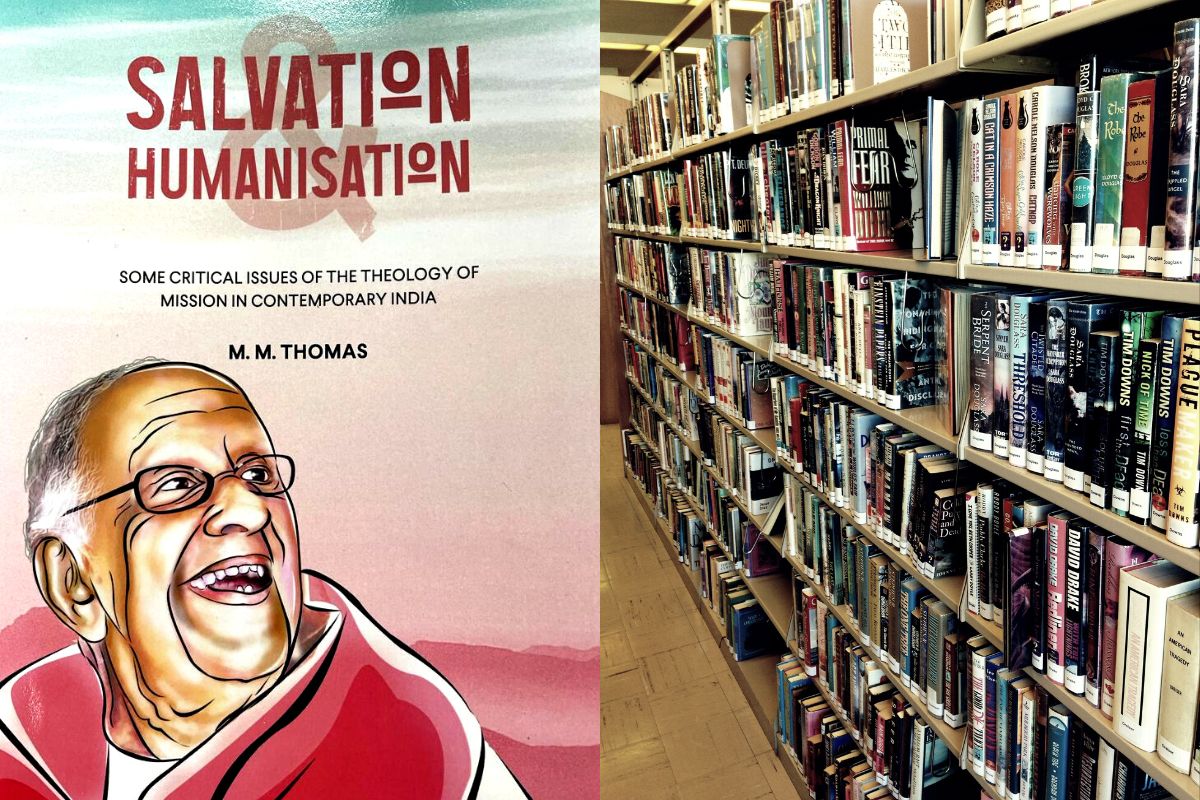 Thomas, M.M. Salvation and Humanisation: Some Crucial Issues of the Theology of Mission in Contemporary India. Madras: The CLS, 1971: 60pp.
We live in the context of dehumanisation. How does the Church address the issue of dehumanisation? More often than not, we engage with serious issues like we do on a WhatsApp group.

MM Thomas' book Salvation and Humanisation grapples with the issue of humanisation at depth and suggests a way forward for Churches in the Global South and beyond.
This classic is a must-read for anyone interested in the theology of Mission. Thankfully, this out-of-print book is now re-published by CISRS for the contemporary Church.
Humanisation is integral to Salvation.
Firstly, MM (as Thomas is fondly addressed) is categorical about the message of Salvation not being 'spiritual inwardness'. He argues for a broader understanding of the message of Salvation (Chapter 1). He concludes that Humanisation is inherent in the message of Salvation.
For MM, the purpose of missionary participation is to make known Christ as the source and foundation of true humanisation. And therefore, the mission of Salvation and the task of humanisation are integrally related.
Any wrangling against Humanisation is misplaced. Salvation and Humanization are deeply intertwined. Simply put, you cannot have one without the other. MM goes on to unpack Humanization, a theme that most would want to look away.
Christian Missionary Enterprise and Humanization
Further, MM maintains that Christian Mission has always seen Salvation as closely related to humanisation. It is remarkably easy to see this dynamic in most missionary endeavours.
A case in this point is Carey's enormous contribution to the Bengal Renaissance and the awakening of a new sense of human dignity. Carey's vernacular work in the villages around Serampore is only due to his grasp of Humanisation inherent in the message of Salvation.
The missionary enterprise, then, was a bearer of cultural and social humanisation. More tellingly, it radically altered the discriminatory caste structures and subsequently gave rise to a new fellowship of the oppressed.
The unprecedented increase of the oppressed in Churches is only due to the promise of Humanisation. The success stories of Christian Mission engagement need to be seen in this light. It isn't difficult to agree with MM that Humanisation was a subversive subtext of earlier missionary work.
Humanisation is the relevant entry point for dialogue
Secondly, MM views contemporary religious and secular movements as expressions of the human search for a fuller and rich human life (Chapters 2 & 3). Humanisation, then, as a common concern, becomes the most fruitful frame of reference for meaningful engagement.
MM suggests that humanisation is a relevant point of entry for engaging in dialogue with society at large. The groundswell around humanisation dialogue can perhaps help the Church to bring awareness about the relevance of Salvation.
Humanisation is the prophetic task of the Church.
Third, a relevant theology of Mission is necessary to address the crucial issue of dehumanisation. MM strongly feels we need a theology of Mission that will lead the Church to engage in the struggle for a meaningful human existence for all.
The Church must not become a communal entity. Instead, it must strive to become an "open fellowship". Therefore, MM suggests we pursue a new path of combining religious (Christian) self-identity and secular solidarity. Only then can the Church be a bearer of true human life and salvation.
The relevance of the Book
Dehumanisation continues to be a concern. Communities across the Global South face the threat of dehumanisation. Worse, dehumanising trends due to Digital Technologies with their various 'disruptions' to our personal and social lives are more real than ever. The Church must make a tangible difference.
In this context, MM's book Salvation as Humanization is a clarion call for the Church to participate in the collective struggle for human rights, social justice, and world community. The Church must make this critical choice to demonstrate its genuine interest in carrying out its Mission.
MM's book is a fascinating read on the Theology of Mission. MM offers exciting new ways for the Church to participate in Mission. However, his ideas raise many theological questions. But, they are honest and forthright.
MM draws from a wide range of theological conversations. His debates with Peter Bayerhaus and Berkoff (mentioned briefly) need to be studied in depth. Herein lies theological views from the other side – the Global South.
As we look ahead into the future, we must seek answers. The task of Humanisation is no less urgent. It is easy but perilous to overlook this. More importantly, the Church's relevance may well depend upon it.
Photo by Dollar Gill on Unsplash