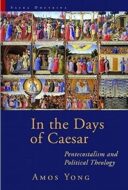 In the Days of Caesar: Pentecostalism and Political Theology by Amos Yong. Grand Rapids, Mich. : W.B. Eerdmans Pub. Co., 2010. 377 pp.
_____________________________________________
Doesn't 'being Pentecostal' and 'being Political' seem contradictory? Prof. Amos Yong's book, "In the Days of Caesar: Pentecostalism and Political Theology" seeks to correct the prevalent stereotypes (both political and theological) regarding Pentecostalism.
This book challenges the mono-dimensional stereotype of world Pentecostalism. It presents a diverse and pluralistic Pentecostal practice and attempts to bring the many tongues of Pentecostal politics into a fruitful dialogue with the many types of political theologies.
Yong demonstrates how political theology can be done today. Yong's motto, "many tongues, many political practices" constitutes a distinctive Pentecostal contribution to the wider Christian discussion of political theology.
His arguments winds around like a fivefold chord: emerging out of Pentecostal sensibilities framed by the fivefold gospel (Jesus as Saviour/Deliverer, Sanctifier, Spirit baptizer, Healer and Coming King), strengthened by dialogical forays into five different theological traditions and informed by ecclesiological considerations derived from Luke and directed towards a performative and trinitarian theo-political proposal.
In this book, Yong demonstrates a unique Pentecostal theological approach using Pentecostal piety, spirituality, and religious experience. He also shows how the distinctive form of Pentecostal theological reflection has the potential to illuminate Christian belief and practice for the 21st century.
Surprisingly, Yong engages with the ecumenical methodology without undermining the centrality of Scripture. Christological themes are made to engage in a dialogue with another non-Pentecostal tradition to propose a constructive set of Christian practices and beliefs regarding the political.
This work is an invaluable contribution to the broader theological academy in terms of theological approach, method, and methodology particularly when we think about the intersection of the Christian faith and its political dimension. Most of the data is derived from Pentecostalism in Asia, Africa, and Latin America in keeping with the Pentecostal centre of gravity in the global South.
I am sure Amos Yong's In the Days of Caesar: Pentecostalism and Political Theology will encourage many to reflect on politics from their theological tradition and spiritual experience.
____________________________________________