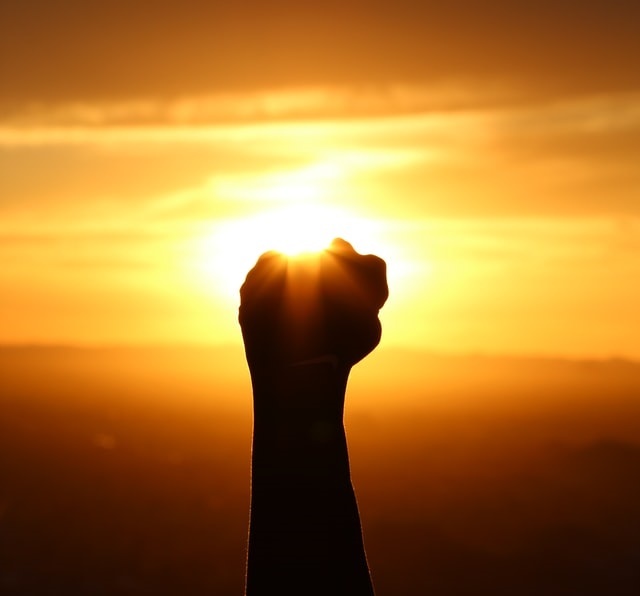 "Be strong in the Lord and in His mighty power"
'Finally, be strong in the Lord and in his mighty power.' Ephesians 6:10.
Like never before, these days all of us are talking about how to boost our immune system? What foods increase immunity? How can I help my body fight a virus? Thanks to Covid19! In the same way, Paul is encouraging here, to be strong in the Lord and in His mighty power.
Sridhar, my friend, was a hefty man with a well-built body. He became a missionary of Indian Evangelical Mission and went to the Andaman Islands planted a church among the Telugu speaking community. Later he with his wife came back to Andhra Pradesh as missionaries. On 24 July 2020, he died in the mission field, because the haemoglobin level dropped, and he succumbed to death. All though he was huge in the look he did not have a proper immune system. How sad!
When we do not build a proper spiritual immune system, we will not have enough strength to fight the enemy, Satan. Some of us have doubts about the existence of Satan. If we believe Jesus is real, we must also believe that the devil, Satan, our enemy, is also real.
We will have to fight the battle with this enemy every day until our death. Therefore, Paul is commanding us that we better be strong in the Lord. It is not good enough thinking of how weak we are. No doubt, we are weak, but are asked to be strong and build an immune system, to withstand the battle?
Do we fully understand how strong and cunning our enemy is? Satan is like this invisible tiniest virus, trying to invade our lives to infect us and to suck all our energy. Therefore, we need to protect ourselves and defend ourselves from the attacks of Satan.
'Be Strong' is a command and a warning as well. Forewarned is forearmed. We have no excuse to say because I was weak, I was defeated. God knows that our enemy is stronger than us, therefore, commanded us to be strong. If we fail to protect ourselves and to strengthen ourselves, we will be defeated one hundred per cent. A committed Christian life is a battle. We cannot be in a battle without wearing all the necessary armour.
To protect from Covid19, they wear the PPE – Personal Protective Equipment. It may not be comfortable to wear the glove, helmet, apron and facemask. However, this is not a suggestion but an absolute necessity. Therefore, Paul says in Eph 6:11, "Put on all of God's armour. Then you can remain strong against the devil's evil plans."
Beware of energy drainers! Top on the list is 'Bad news.' Every morning we are bombarded with the news how Covid19 is advancing. How many people died? How people are suffering? News like this brings fear and discouragement. As a result, we feel weak. But Psalms 112: 7, 8 says, 'They will have no fear of bad news; their hearts are steadfast, trusting in the Lord. Their hearts are secure, they will have no fear; The people from Jairus' home came with the bad news that his daughter is dead. Ignoring what they said, Jesus said, "Do not be afraid, only believe" (Mark 5: 36).
Therefore, as a believer let us not allow ourselves to hear such news in the morning. There may be people who are around us who always talk about negative and depressing things. Do not allow them to come near. We should not be the agent to spread gossip (Eph 4:29).
Second, 'Anger,' which saps our energy. Anger makes a person spill their temper on others and they are relieved but feel weak. But, look at the mess that they have created! Proverbs 16:32 says, 'Whoever is slow to anger is better than the mighty, and he who rules his spirit than he who takes a city.' Eph 4: 31 commands us, "Let all bitterness, wrath, anger, clamour, and evil speaking be put away from you, with all malice."
Third, 'Confusion.' When we have the lack of understanding of the Lord we serve, we allow doubt and confusion to take a grip on us. This will sap all our strength. Gideon was confused, afraid and hiding as he was threshing wheat in a winepress to safeguard himself and his resources. But the angel of the Lord came to him and called him, "The Lord is with you, mighty warrior." He was further confused, and asked, "If the Lord is with us why has all this happened to us?" (Judges 6:11-13).
Our eyes need to be open to see the magnificent strength of our God. The prophet Elisha encouraged his confused servant who lamented early morning, "Oh my lord, what shall we do?" saying, "Those who are with us are more than those who are with them." And Elisha prayed, "O LORD, open his eyes so he may see." Then the LORD opened the servant's eyes, and he looked and saw the hills full of horses and chariots of fire all around Elisha. 2 Kings 6:15-17. When we face mountain like problems, shift our eyes to see what kind of God we trust.
Fourth, 'Disobedience.' When we continue in sin, we continue in disobedience. Disobedience cuts our relationship with God. Without a relationship with God, we are weak to face all kinds of challenges and trials. Unconfessed sin is like a leaky tap, which drains all the strength and resources we have received from God. After David sinned, he tried suppressing his consciousness.
Consequently, he says, "When I kept silent, my bones grew old, Through my groaning all day long. For day and night, Your hand was heavy upon me" Psalm 32:3-4. But when he confessed it, the Lord restored him and received back the joy of salvation. (Psalm 32:5,1; 51:12). To have overflowing strength from the Lord, keep our hearts and minds clean, otherwise, we will become very weak and succumb to defeat.
Aware of strength givers! Top on the list is the "joy of the Lord." Nehemiah encouraged the people in Chapter 8:10, "This day is holy to our Lord. Do not grieve, for the joy of the Lord is your strength." Be joyful in hope, patient in affliction, faithful in prayer (Romans 12:12). Rejoice in the Lord always (1 Thess. 5:16). Begin each day rejoicing in the Lord, it will give you the strength to face the day.
Second, "Be still." This is what the Sovereign Lord says, in quietness and trust is your strength, but you would have none of it (Isaiah 30:15). "But those who wait on the Lord shall renew their strength," (Isa. 40:31). This is contrary to the world around us, which insist that we do something about the situation we are confronting. Many times, the Lord must rebuke me and remind me to be quiet. If God must work, then let us be still. Begin each day spending quiet time with God.
Third, recognise and reinforce "who you are and whose you are." Imagine, that we are the princes and princesses of a great king. Yes, the King of kings has made us belong to Him. The Lord has purchased us through the blood of His Son Jesus Christ. We are not our own (1Cor 6:19,20). In Isaiah, the Lord said, "You are my servant, Israel, in whom I will display my splendour" (Isaiah 49:3).
Further, Isaiah 41:10 says, "Fear not, for I am with you; Be not dismayed, for I am your God. I will strengthen you, Yes, I will help you, I will uphold you with My righteous right hand.' Every day recognise who you are and whose you are, which will give you the strength to face any kind of situation.
Four, "surrender your little strength." Many of us habitually the first thing we do is to talk about our weaknesses, our pains, and aches. We complain that we do not have enough strength. On the contrary, our little strength is not an issue for the Lord. What we do with that little strength is the issue. Jesus said to the church in Philadelphia, "I know your deeds… I know that you have little strength… (Revelation 3:8).
God does not reject us because of our inadequacy and deficiency. We saw the Lord encouraged Gideon who discounted himself. But the Lord called him a mighty warrior. The Lord sees the potential in us than we could see ourselves. Then, the Lord cleared his fear and hesitation directing him to go for the battle in the strength he had
(Judge 6:12-14). Moses was aware of his inadequacy, so he was not willing to accept the mission the Lord was engaging him. Then the Lord asked Moses, what is that in your hand? He replied, "A staff."
Then the Lord used this ordinary staff to do great miracles and strengthened Moses to lead the children of God. Every day let us surrender the little strength and the Lord will use us as a mighty warrior. Give the ordinary talent and ability to the Lord and He will convert it as a mighty weapon. As we surrender and humble, the Lord increases our strength.
The secret of our strength: In Judges 16:6 Delilah asked Samson, "Tell me the secret of why you are so strong?" We learn from this story that Samson thought that his strength is in his unshaved head. He failed to recognise that the source of his strength is ultimately granted by the Lord. Our strength will increase day by day, and year by year as we align with God and His purpose. God will strengthen us as we humble (James 4:6) and depend on His grace (2 Timothy 2:1) to complete the task He has given us. Our attitude, the bad news, confusion and doubt, disobedience will sap our strength. But then, we are commanded to be strong in the Lord and His mighty power.
The prophet Elijah was afraid of the bad news, doubt and confusion and came to the point to die. But the Lord strengthened him through an angel touched him and gave food. And he was able to travel forty days and forty nights until he reached Horeb and until God's purpose for him is complete (1 Kings 19).
God strengthens us as we rejoice in the Lord, wait on Him, be aware that we are God's workmanship and know that our strength comes from the Lord. Therefore, be strong in the Lord and His mighty power.
Henry Martyn said: "I am immortal until God's work for me to do is done. The Lord reigns."
---
Rev John P Wesley is the Former General Secretary of Indian Evangelical Mission
Photo by Richard Felix on Unsplash