Amnesty International published a report on 31 May describing atrocities committed by the Myanmar military (Tatmadaw) in the east of the country.
The report, which covers the period from December 2021 to March 2022, highlights the collective punishment meted out by the Tatmadaw on predominantly Christian Karen and Karenni civilians in Kayin and Kayah states.
The international human rights organisation's research was carried out in March and April 2022, including two weeks spent on the Thailand-Myanmar border. They interviewed 99 people, including numerous witnesses or survivors of attacks and three defectors from the Tatmadaw.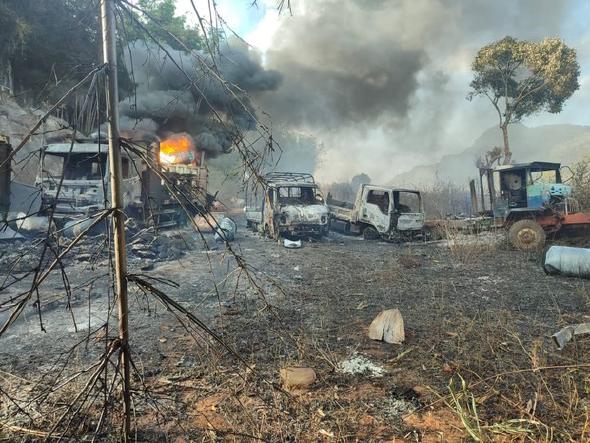 "The military's ongoing assault on civilians in eastern Myanmar has been widespread and systematic, likely amounting to crimes against humanity," said Rawya Rageh, Amnesty International's Senior Crisis Adviser.
Amnesty reported widespread use of arbitrary detention, torture and extrajudicial executions of civilians. Whilst Myanmar's ethnic minorities, mainly Christians, have suffered persecution at the hands of the Tatmadaw for decades, there has been significant escalation in violence following the military takeover in February 2021, which led to the deaths of hundreds of civilians and the displacement of more than 150,000 people in the reporting period alone.
Atrocities reported included the killing of women, men and children in multiple vehicles on 24 December 2021 by soldiers near Mo So village in Kayah State's Hpruso Township. After the soldiers stopped them, they killed all 35 civilians and burned their bodies.
The report mentions eight airstrikes on villages and an internally displaced persons camp in eastern Myanmar in the first three months of 2022. Nine civilians were killed and at least a further nine injured in the attacks, which also destroyed homes and churches. In most cases, there was no evidence of non-civilians being present.
Systematic looting of villages in Kayin and Kayah states was widely reported before houses were burned.
---
Related Countries Myanmar (Burma)
---