More than 13,000 people have been killed in attacks by Fulani extremists between 2009 and 2021, according to a recent report.
The report, by Humanitarian Aid Relief Trust (HART), denied that this violence was purely about access to land, arguing, "The escalation of violence must also be seen in the context of the growth of Islamist extremism across the Sahel."
"This ideology," the report states, "which has become so widespread in northern Nigeria since the 1980s, is often instrumentalised to inspire, recruit for, and justify attacks, and to determine who is targeted and who is not."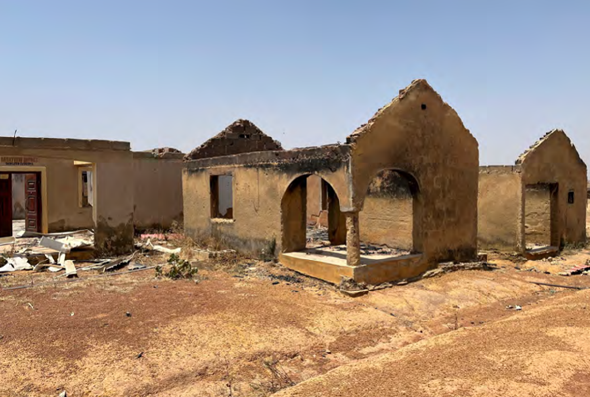 The report, compiled in partnership with the International Organisation for Peace Building and Social Justice and Christian Solidarity International, with the assistance of local human rights groups, followed a fact-finding mission to the region in late February 2022.
Baroness Cox, Founder President of HART and a patron of Barnabas Fund, led the mission. Although a frequent visitor to the country, she was advised for the first time to fly from Abuja to Jos, Plateau State, rather than travel by road, such is the worsening security situation in the region due to the increased frequency of killings and kidnappings.
The findings of the HART team's report include details of ruins of homes and churches, detailed evidence of the slaughter of children and the elderly and the occupation of villages by Islamist Fulani militia. The lack of protection for victims by either police or the army was highlighted, as was the fact that few perpetrators have been brought to justice.
The narrative often presented in the media as a conflict between farmers and Fulani herders was firmly rebuffed. Any dispute, HART affirmed, is not simply about land, since attacks take place outside the grazing season and away from the regular grazing routes.
The "herders" were found to have much more potent weapons at their disposal than the Christian farming communities that they have repeatedly attacked, leaving the vast majority of Muslim farming communities undisturbed.
The team was critical of the lack of response to attacks by the authorities. They noted a visible army presence in all the key sites, including army bases and manned checkpoints, but in each instance military assistance for victims arrived only after the assailants had left.
Whistleblowers, including Luca Binniyat, spokesperson of the Southern Kaduna Peoples Union, have been silenced and imprisoned. Binniyat was arrested in November 2021 following his reporting of attacks against Christian communities in Kaduna State.
HART condemned the decision of the US State Department in November 2021 to remove Nigeria from their list of "Countries of Particular Concern" with reference to violations of religious freedom. Among the recommendations of the HART report was the reversal of that decision.
Other recommendations included full enforcement of the law to protect all Nigerian citizens and urgently required improved security for vulnerable communities. The UK Government, EU member states and UN aid agencies were challenged to provide and allocate greater humanitarian assistance for displaced people in the Middle Belt.
---
Related Countries Nigeria
---