I love animals but it is astonishing that so much attention was given to the campaign to airlift out of Afghanistan some of the cats and dogs of Kabul in the hold of a specially chartered flight. In contrast, I am dispirited that Christians have seemingly been overlooked by the government even though they face the most extreme dangers under Taliban rule.
Barnabas Fund, a charity of which I am patron, has been struggling to get a hearing from the government, having assisted 400 Afghan Christians who have escaped into a neighbouring country and supporting another 400 in Afghanistan. They are currently enabling another 1,200 to get out of Afghanistan and into safe countries.
The reason they are doing this is because this small community of Christians are converts from Islam liable for punishment for apostasy under the Taliban. The Hanafi school of sharia which predominates in Afghanistan specifies death for male apostates and imprisonment for female apostates. The Taliban have a record of ultra-strict interpretation of sharia.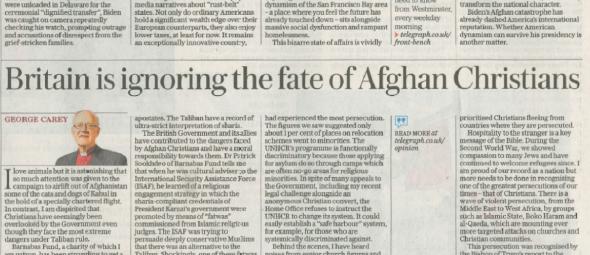 The British government and its allies have contributed to the dangers faced by Afghan Christians and have a moral responsibility towards them. Dr Patrick Sookhdeo of Barnabas Fund tells me that when he was cultural adviser to the International Security Assistance Force (ISAF), he learned of a religious engagement strategy in which the sharia-compliant credentials of President Karzai's government were promoted by means of "fatwas" commissioned from Islamic religious judges. The ISAF was trying to persuade deeply conservative Muslims that there was an alternative to the Taliban. Shockingly, one of these fatwas that was disseminated and paid for by the ISAF called for the killing of those who leave Islam.
The circulation of this fatwa increased the dangers faced by "apostates" immeasurably.
If that was not enough, the government's long-standing failure to address the persecution of Christians, atheists – who are also regarded as apostates – and other minorities in Syria is well known. I and others have been highlighting this for many years.
The much-trumpeted relocation scheme from Syria almost completely ignored the needs of Christians, who had experienced the most persecution. The figures we saw suggested only about 1% of places on relocation schemes went to minorities. The UNHCR's programme is functionally discriminatory because those applying for asylum do so through camps which are often no-go areas for religious minorities. In spite of many appeals to the government, including my recent legal challenge alongside an anonymous Christian convert, the Home Office refuses to instruct the UNHCR to change its system. It could easily establish a "safe harbour" system, for example, for those who are systemically discriminated against.
Behind the scenes, I have heard noises from senior church figures and politicians that times are changing and that the government is taking seriously the needs of persecuted minorities. But we have heard such assurances many times. They must now take the form of action.
And in the case of Afghanistan, the numbers are so much smaller. There are only between 5,000 and 8,000 Afghan Christians to support – in contrast to the two million in Syria. If Britain does act, it will join a small number of countries including Australia, Brazil, Canada, the Czech Republic and Poland which have prioritised Christians fleeing from countries where they are persecuted.
Hospitality to the stranger is a key message of the Bible. During the Second World War, we showed compassion to many Jews and have continued to welcome refugees since. I am proud of our record as a nation but more needs to be done in recognising one of the greatest persecutions of our times – that of Christians. There is a wave of violent persecution, from the Middle East to West Africa, by groups such as Islamic State, Boko Haram and al-Qaeda, which are mounting ever more targeted attacks on churches and Christian communities.
This persecution was recognised by the Bishop of Truro's report to the Foreign Office, which stated that the "level and nature" of the persecution of Christians in some regions was perilously close to the "international definition of genocide". In spite of the report, it seems some government departments have not yet woken up.
NATO may now have left Kabul. But it is not too late, Boris, to give Christians and other "apostates" the same priority in escaping from the Taliban that you have to cats and dogs.
---
Related Countries
Afghanistan
---