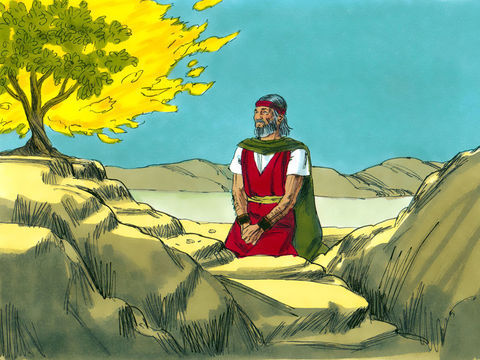 Exodus 33:14-15
"The Lord replied, "I will personally go with you, Moses, and I will give you rest—everything will be fine for you." Then Moses said, "If you don't personally go with us, don't make us leave this place."
It seem very evident from the Scriptures that the Lord ordained every step in the life of Moses. The Lord directed everything he did, and he was very conscious of that reality. From the time God called Moses at the burning bush when he was eighty years of age till, he died on Mount Nebo at age one hundred twenty, he walked under divine guidance. He had a very deep and intense relationship with God.
Exodus 33:11 tells us, "Inside the Tent of Meeting, the Lord would speak to Moses face to face, as one speaks to a friend. This is a testimony of the nature of the relationship Moses shared with God. The Lord confirmed His relationship with Moses as recorded in Numbers 12:6-8, "And the Lord said to them, "Now listen to what I say:
"If there were prophets among you, I, the Lord, would reveal myself in visions. I would speak to them in dreams. But not with my servant Moses. Of my entire house, he is the one I trust. I speak to him face to face, clearly, and not in riddles! He sees the Lord as he is. So why were you not afraid to criticize my servant Moses?
Despite this close relationship, yet Moses wanted to know more about the ways of God. In one occasion of intercession, Moses pleads with God, "If it is true that you look favourably on me, let me know your ways so I may understand you more fully and continue to enjoy your favour. And remember that this nation is your very own people."
In response to the pleading of Moses the Lord told him; "I will personally (My presence) go with you, Moses, and I will give you rest—everything will be fine for you." Exodus 33:14
The Lord promises Moses that His presence will go with Him throughout the journey to the Promised Land. This posture of God presents a remarkable lesson for the people of God today. That God will always be faithful to His promises. He will always go before us and His presence will never depart from us.
Moses answered the Lord in an extremely specific way; "Then Moses said, "If you don't personally go with us, don't make us leave this place. Ex 33:15. Moses made it clear to the Lord that he is not going to the land if the presence of the Lord was not going with him.
The presence of the Lord was the most valuable thing to Moses. The possession of the Land was secondary to the presence of the Lord. Israel may not have understood that fact. It is very much like many of our believers today.
It is exceedingly difficult for many to see the deeper things of God; we live only on the surface. The Psalmist provides a deeper insight when he said, "He made known His ways to Moses, His acts to the children of Israel. (Psalms 103:7)
Exodus 33:16 provides two reasons why Moses would not go up without the presence of the Lord," How then will it be known that Your people and I have found grace in Your sight, except You go with us? So, we shall be separate, Your people and I, from all the people who are upon the face of the earth."
The presence of the Lord is indicative of the favour of God on Moses and the nation of Israel. Nevertheless, it also distinguishes the people of God from all other nations. What makes the believers unique and distinguishable? It is the presence of God. Moses knew this fact and was determined to implement it in his life. "I am not going without you Lord."
---
https://freebibleimages.org/illustrations/moses-burning-bush/ Image contributed by Sweet Publishing/ FreeBibleimages.org