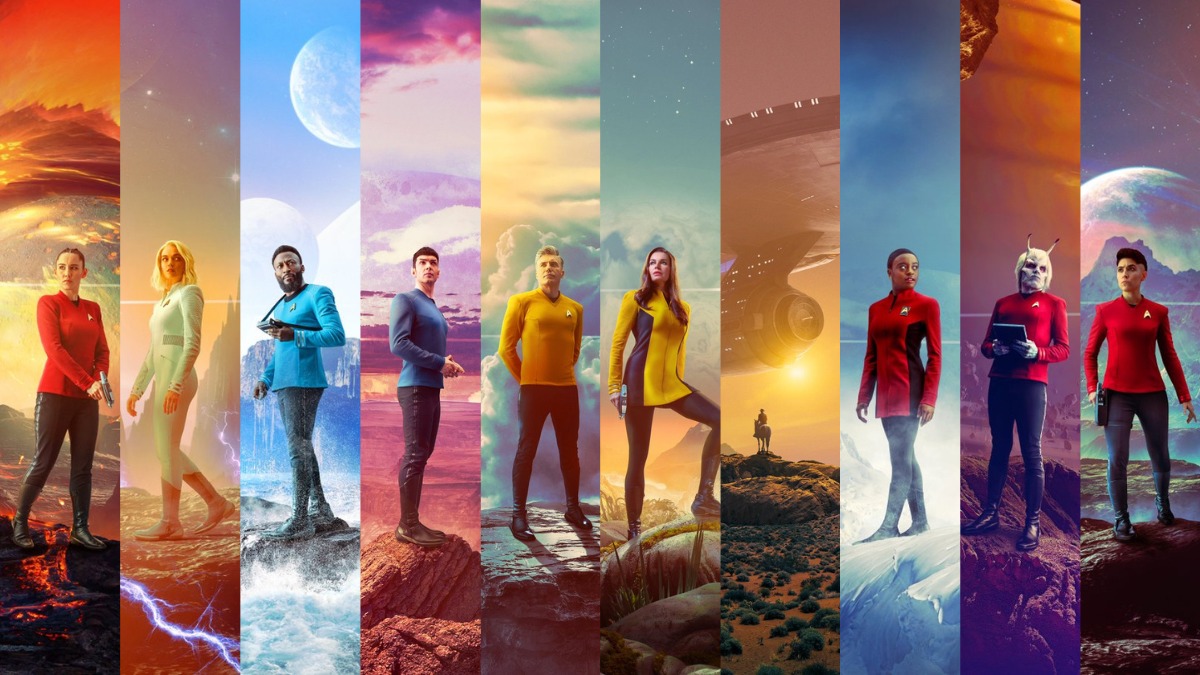 "Space, the final frontier. These are the voyages of the starship Enterprise. Its five-year mission: to explore strange new worlds, to seek out new life and new civilisations, to boldly go where no one has gone before."
Star Trek – the most recognisable Sci-Fi brand – is back. Created by Gene Roddenberry way back in 1969, Star Trek celebrates the imagined future made possible by Scientific and Technological advancements. The brand's development from a Television Series to a significant cultural landmark is a fascinating journey.
The Original Series (TOS) enjoys a cult following, and the subsequent spin-offs have extended its influence and reach across generations.  The latest Star Trek – The Strange New Worlds (2022) is the return of the spectacle. Undoubtedly, the Series helps us rediscover wonder, excitement and fantasy.
The Strange New Worlds is a prequel to Star Trek: The Original Series. It unfolds the journey of the starship USS Enterprise under Captain Christopher Pike. Like any other die-hard Star Trek fan, I watched in sheer astonishment as the Enterprise set out on a five-year mission "to boldly go where no man has gone before."
But Star Trek is not all about spectacle. Besides the wonder, Star Trek episodes offer moments of self-reflection. True, Science and Technology are critically crucial for Star Trek's myth-building. And yet, it provides self-reflexive possibilities that allow you to explore your inner worlds and boldly go where you have never gone before.
Like every Star Trek series, The Strange New Worlds offers fresh insights and perspectives to explore life's most profound questions.  By placing familiar things in unfamiliar contexts and unfamiliar things in familiar contexts, The Strange New Worlds provokes our thinking on societal concerns and personal challenges that we so often overlook.
Star Trek episodes open up new and imaginative ways to explore life's more profound questions.
In the introductory episode, Captain Christopher Pike finds inspiration to live.
In Children of the Comet (Episode 2), Uhura finds purpose.
In The Ghosts of Illyria (Episode 3), Una and (the in-house doctor) confront hidden secrets when a deadly contagion ravages the Enterprise.
The series repeats the human tryst with meaning, community, and destiny in its storytelling. It is difficult to silence the voices within your head as you watch Star Trek. Surprisingly, you find solace in these self-reflexive moments.
Interestingly, in the Star Trek Series, you don't need a theological lens to read alternate meanings. A wide variety of themes such as human condition, meaning, morality, social ethics, and destiny overlap theological concerns and commitments. We need not take a hard look for religious meanings where none exist. Star Trek naturally lends itself to theological conversations.
For example, take a look at the following.
 "Suffering can be transformed into insight. You must seek out the good in knowing your own death. Use it to be the man you most essentially are" (Spock to Captain Pike – Episode 1)
"We can go forward together knowing that whatever shadows we bring with us make the light all the brighter" (Captain Pike, Episode 1)
"The lights are back on. That doesn't mean we see clearly. People are always hiding things. Dr M'Benga stopped hiding from that day, just a little. I did too! I told Captain Pike the truth about myself, and he defended me" (Una in The Ghosts of Illyria – Episode 3)
A convergence of philosophical inquiry, literary social imagination, cinematic technology and popular culture make Star Trek a ready material for unfolding 'God-conversations'. Visual stories, such as films, Television Serials, can be "a "prime and fertile repository for theological encounter and exchange" (Deacy 2005).  Therefore, theology can use these resources to reflect on its concerns and challenges.
Star Trek – The Strange New Worlds (2022) provides a new visual vocabulary of wonder to introduce a wide range of social issues and cultural concerns to a technological society. An engagement with Star Trek becomes a theological necessity, if not a cultural necessity.