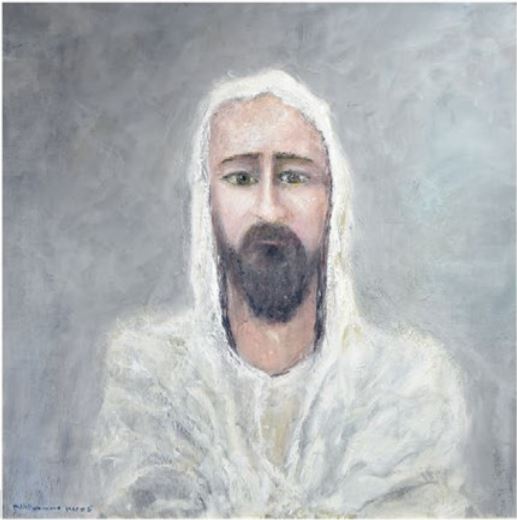 One of Scotland's best-known contemporary painters is a Christian called Nael Hanna, originally from Iraq. His God-given talent is amazing, the pictures he produces are beautiful, but for me the most wonderful thing about my friend Nael is that he has seen Jesus. Not once but three times. The first two times were in Iraq when, as a very young man, he had been seriously injured in the Iran-Iraq war and was near death. The third time was more recently, late at night at his home in Scotland. Nael was suffering terribly painful gout and cried out to Jesus to help him. Jesus appeared to him, touched and healed his foot and asked him to tell the story to others.
His last word to Nael was "Shlomo", the Aramaic word for "wholeness, peace and wellbeing". It was the same that the risen Jesus gave to His disciples.
Soon after that experience, Nael made a small sketch of Jesus, who had looked the same on each of the three occasions, with dark hair, dark eyes and white clothes. Nael decided in his heart that one day he would turn the sketch into a proper painting and after some years (and some encouragement from me) he did.
To see Jesus in this earthly life is a rare blessing. More often we will meet angels, who come as messengers from the heavenly court, sent out by the Lord to bring His words.
When Moses encountered the Lord in the burning bush at Horeb, it was actually an angel who spoke the words of God (Exodus 3:2-6). When Zechariah, the father-to-be of John the Baptist, questioned the angel who appeared to him in the temple, he was told: "I am Gabriel. I stand in the presence of God, and I have been sent to speak to you and to tell you this good news." (Luke 1:19)
The angel who told the shepherds of the birth of the Saviour began by explaining that he was bringing them news, specifically "good news that will cause great joy" (Luke 2:10). In other words, he had been sent to them with a message. John tells us that when God gave him the revelation of Jesus Christ, He made it known to John "by sending his angel" (Revelation 1:1).
Angels can do more than convey messages from God. They can also care for us, minister to us, attend on us. Elijah, exhausted and afraid, went into the wilderness and prayed to die, but there the Lord sent an angel who not only spoke gentle words of sympathy and understanding to Elijah but also gave him food and water (1 Kings 19:1-8). Jesus Himself was cared for in the wilderness by angels, after His long fast and His great spiritual battle with Satan (Matthew 4:11). How we would love to know what they said to Him and how they helped Him.
In fact, Scripture tells us that all angels are "ministering spirits sent to serve those who will inherit salvation" (Hebrews 1:14). Although sent out, they remain in constant contact with their King; as Jesus said, "they always see the face of my Father in heaven" (Matthew 18:10).
Our world is full of these heavenly messengers, although sometimes we may not recognise them. Scripture tells us: "Do not forget to show hospitality to strangers, for by so doing some people have shown hospitality to angels without knowing it."
How interesting to note that this famous command is sandwiched between two others, about loving our fellow Christians, especially those who are persecuted: "Keep on loving one another as brothers and sisters … Continue to remember those in prison as if you were together with them in prison, and those who are mistreated as if you yourselves were suffering." (Hebrews 13:1-3)
---
Photo credit – Nael Hanna's 2021 portrait of Jesus
---
This article was originally published in the Barnabas Fund Magazine