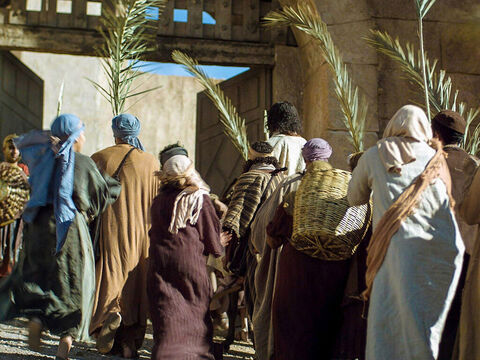 Say to Daughter Zion 'See, your king comes to you, gentle and riding on a donkey, and on a colt, the foal of a donkey.' Matthew 21:5
Today is Palm Sunday. It marks the start of Jesus' journey to the Cross. Exuberant celebrations greet His arrival into Jerusalem only to give way to angry demands for his execution. So often the distance between exultation and despair is wafer thin.
All too easily Jesus might have been persuaded by the rapturous welcome that ushered him into the city. Just maybe His message had been grasped and these were indeed committed followers. Yet, Jesus never let His guard drop. He knew that praise and celebration too often lack the power to endure rigorous testing.
This was indeed a time for Jesus to remind Himself of His mission. Distractions must be avoided at all costs. In everything God has a purpose. In choosing to follow Jesus we must consider if we have the resilience to stay the distance. Time would reveal none of His twelve most devoted disciples could withstand the demands of faithfulness.
Warfare is real and presents each one of us with questions. As in all of life it's sensible to know where my stress points lie. These are where I am most likely to fracture under pressure. Knowing oneself is critical to any fight we are drawn into. When I know myself, strengths and weaknesses, I am better positioned to emerge successful from life's struggles.
Jesus knew His mission; His Father, the sole source of His strength; and the importance of prayer and God's Word in maintaining an appropriate perspective. In following Jesus we too must know when to celebrate and when to endure. Our mission to love and serve God in all things. Our anchor and our compass God's living Word, the Bible. Prayer, our source of strength and encounter with the Truth.
Something to Consider: How are you serving God? How confident are you in Scripture? Is prayer the source of your enduring strength?
A Prayer to Make: 'Lord, may Your Word provide a lamp for my feet and a light on my path.'
---
www.LumoProject.com / LUMO Photo taken from www.freebibleimages.org